Reagan Old Girls Association, USA was birthed in Atlanta, GA in 2007 by 3 former students of the school who recognized that there were a lot of alumnae of the school residing in the USA and felt there was a need to reunite them and foster sisterhood. A critical goal of the association is to give back to the school which provided a solid foundation for them all.
One great influence that stood out to all old students was Ms Cleo Anita Roper who served the Baptist mission and was at the school for 37 years from – . She lives in her home in Clarkesville, GA and she has been carried along since the inception of the association. She has also been a great encourager of the association, its members and the projects embarked on at the school.
A Life of Service in the Nigerian Baptist Mission Field (1954 - 1991)
Anita Roper was born on May 5th, 1927 in Clarkesville, GA. She was raised in a hardworking Christian home where she was the eldest of 4 children.
Throughout her school days she excelled in everything; she was chosen as the valedictorian of her High School class in 1944. At age 12, she gave her life to Christ and began a journey that she herself would agree was difficult but ultimately fulfilling.
On July 31, 1954 Miss Roper left all that she had grown to love at home, and ventured on a mission to Nigeria where her life and the lives of many people would be changed for the glory of the Lord.
Reagan Memorial Baptist Girls' Secondary School was founded in 1941 by the Southern Missionary Board, USA. It is located at 29 Commercial Avenue, Yaba Lagos, Nigeria. It started as a primary school in 1948 when the girls were transferred to the present site in the third year.
The school was named in honor of Ms. Lucille Reagan, a missionary who wanted the idea of having a separate Baptist high school for girls. Ms. Reagan passed away of yellow fever in 1936. Ms. Cora Ney Hardy was the first principal. The first African principal was Ms. Adeola Adegbite.
As a Christian institution, the focus was to develop girls as high intellectuals, good-spitted, morally-sound and highly-cultured in the society. Girls were divided into 4 houses: Lumbley(yellow); Agbebi (Blue): Sanders (Red); and Reagan (Green). 
They competed for laurels at the Annual Inter-House Athletics Competition. Extra-curricular activities included Girls Auxiliary (GA), Lydia, Drama, Gardening, Literary and Debating, Red Cross. Thrift and Choral Clubs.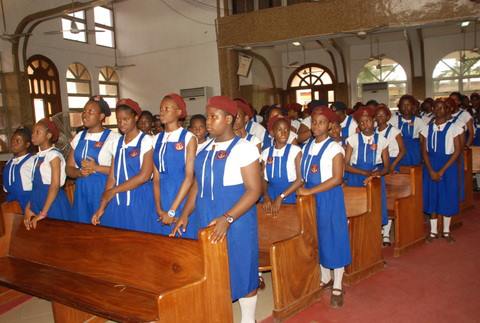 "God Bless thee, our Reagan Memorial
We stand to salute thee today
May our love for thee, now and ever be
Shown by living the truth thou hast taught
May the light, shining bright
In the life of each girl whom thou hast trained
Light the way to new day, with a noble, loving,
Christian Womanhood."